Pessimists. Defeatists. Cynics. Negative Nancys! Bummer Betsys are strewn throughout movies and T.V., and they're often the kinds of characters we love to hate. Whether they're the primary antagonist of our favorite late-night sitcom, or the protagonist of a personality-shifting story, these Nasty Nates choose to sulk under the clouds on the sunniest of days. In no particular order, let's take a look 10 of the most grumpy and grouchy Debbie Downers of all time.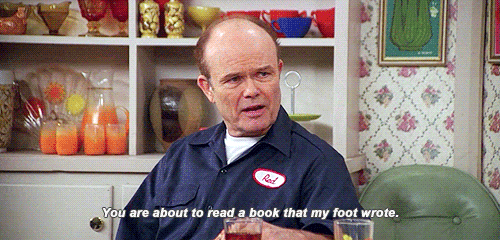 1. Red Forman (That '70s Show)
"You morons just hung vacancy signs on your asses, and my foot's looking for a room." Need I say more?
---
2. April Ludgate (Parks and Recreation)
April Ludgate is sweet looking, but she's got a dark side. A loner and a goth in high school, you can find April discussing ritual sacrifice or hurling insults at people pretty much 24/7. Disinterested and dry, she's the ultimate workplace wet blanket.
---

3. Lois Wilkerson (Malcolm in the Middle)
I had to dig deep into the television time machine for this one. The wife of Hal and the mother of FIVE boys, Lois was a miserable and arrogant woman who was always fighting for control in her household. Described as an "overbearing cruel she-beast" by her boys, Lois was a soldier in the Wilkerson household and often subjected her sons to punishments that included staring at a wall for hours or scrubbing the kitchen floors. Everyone says their mom is the best except the Wilkerson boys.
---

4. Squidward Tentacles (SpongeBob SquarePants)
This Krusty Krab cashier straight up hates his life. He's miserable at work, and he's miserable at home. But in all honesty, how happy can you really be with a nose that big?
---

5. Stanley Hudson (The Office)
Stanley Hudson is my favorite grumpy character, mostly because I understand his lack of patience for boss man Michael Scott. Stanley has a passionate hate for Michael, even saying that he won't pee on him if he were on fire. Those are some deep-rooted feelings. Stanley wakes up every morning in a bed that's too small, drives his daughter to a school that's too expensive, and then goes to a job for which he gets paid too little. But if there's one thing he does like, it's pretzels.
---

6. Carl Fredricksen (Up)
After losing his wife, Carl Fredricksen became your stereotypical crankypants. So cranky in fact, that the local court declared him a public menace and ordered him to move into a retirement home. Sheesh grandpa!
---

7. George Wilson (Dennis the Menace)
Ah, another menace. Dennis "The Menace" Mitchell was the bane of neighbor George Wilson's existence. As a result George became the ultimate fun-sucker. That said, if anyone used a slingshot to fling medicine down my throat, I might become the same.
---

8. Walt Kowalski (Gran Torino)
Walt Kowalski is a retired Korean War veteran. Played perfectly by Clint Eastwood, Walt is that irritable neighbor that sits on his porch and scoffs at anyone thats breathes in his general direction.
---

9. Ebenezer Scrooge (A Christmas Carol)
Bah! Humbug! Ebenezer the geezer is undoubtedly our longest-reigning grumpster. He first started his party-pooping all the way back in 1843, when he appeared in Charles Dickens' A Christmas Carol. The OG Christmas hater, Mr. Scrooge is as stiff and cold as they come, but if you're familiar with his story, you know he learns to change his ways. Despite his 180-degree turnaround, he still makes the list for having hated Christmas in the first place.
---

10. Severus Snape (Harry Potter)
Snape was an extremely skilled wizard, but he was by far one of the grumpiest guys at Hogwarts School of Witchcraft and Wizardy. He was a solitary man with no friends though, so I get it. As long as you knew your potions and minded your own business, you were probably ok in Severus' book. But as Ron Weasley once said: ""Don't push it. I've heard Snape can turn very nasty."
---
Honorable mentions: The Grinch (How the Grinch Stole Christmas), Grumpy (Snow White and the Seven Dwarves), Oscar the Grouch (Sesame Street), Ron Swanson (Parks and Recreation), Dr. Gregory House (House), Moe Szyslak (The Simpsons)