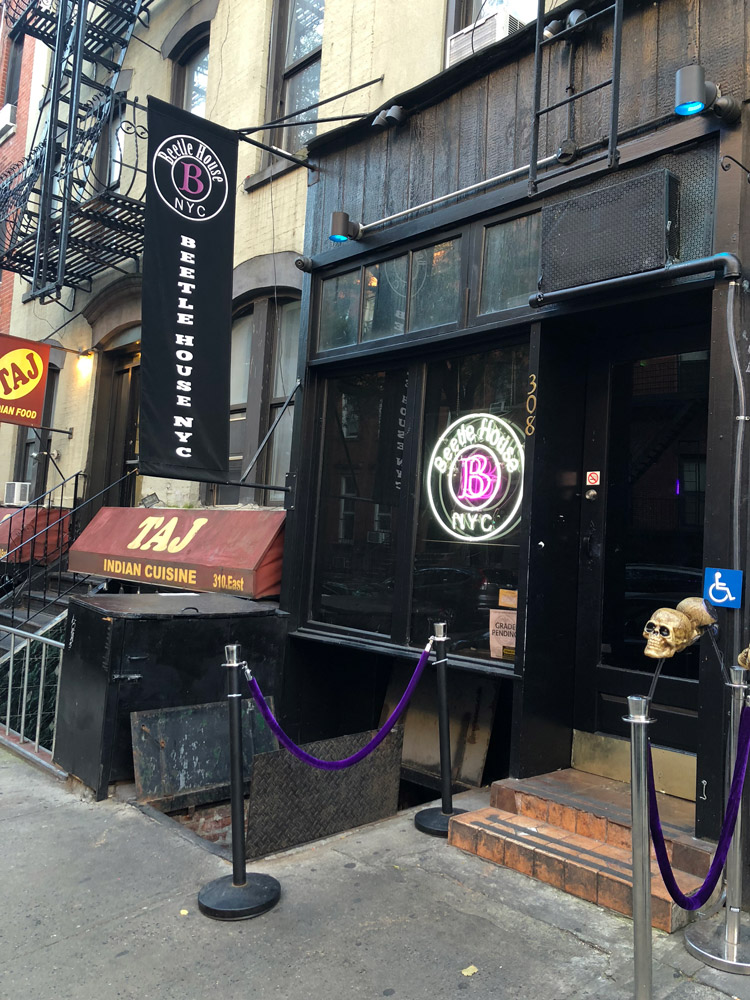 It's the week before Halloween, 5 p.m. on a Thursday, and Beetle House NYC is already packed. With every seat at the bar full, it's nearly impossible for two people to pass between it and the opposite wall, which is painted with large, vertical black and white stripes.
Nearly every inch of the small bar is covered with something spooky: fluffy color-changing clouds hang from the ceiling, a massive "here lies Betelgeuse" tombstone stands behind the bar, and drawings and paintings of characters including Edward Scissorhands, Lydia Deetz, Jack Skellington, and Beetlejuice himself plaster the walls. A few minutes past the hour, a decked out Mad Hatter unceremoniously walks through the door and begins interacting with customers in full character.
At Beetle House, it has been Halloween every day for two and a half years. Originally intended to be a short-term pop-up, this Tim Burton-themed restaurant has no end in sight.
Owner Zach Neil and his business partner originally got into the pop-up business in 2015, opening a Will Ferrell-themed bar called "Stay Classy New York." The bar was an overwhelming success, getting coverage from publications such as Time magazine.
After closing Stay Classy, Neil and his team settled on Tim Burton as the next theme to focus on. Burton's movies were meaningful to Neil, who grew up in a family that didn't celebrate Halloween and remembers being snuck into the theater to see Beetlejuice as a young child.
The team originally imagined a large venue with a performance area, but ultimately settled on what Neil calls "a glorified closet" in a reportedly haunted building in the East Village (the site of about 11 deaths since the 1800s, Neil says, ranging from murder to suicide).
"It's like you're having dinner at Beetlejuice's house," Neil says. "Like you're going to have dinner with Lydia Deetz."
Neil built the menus, both drink and food, around this theme, filling them with homages to Burton's films and characters. Favorites include the "Edward Burger Hands," "Cheshire Mac," "The Beetle's Juice," and the Instagram-worthy "Big Fish Bowl."
Following a year of success of the NYC location, Neil decided to expand Beetle House instead of closing down like originally planned. In mid-2017, they opened a second Beetle House in Los Angeles, more closely resembling the original vision. The California location has the same themed menu, spooky soundtrack, and Tim Burton décor as the NYC original, but it is 7,000 square feet, seats 300, and features a fully produced show each night featuring fire breathers, sword swallowers, jugglers, and more.
"Even though I've seen it 100 times and I programmed most of it, I still like going there as a customer and watching the show," says Neil, who splits his time between New York and California. "Sometimes I'll just say, hey, I'm going to Beetle House tonight because I just feel like being entertained."
What keeps Beetle House going beyond its original expiration date is, obviously, the fans. Neil's favorite thing to see is a customer dressed up. Although the restaurant hires actors to come in as Burton characters each day, he says some customers' costumes are even better.
"It'll be a Tuesday night in February, and somebody will come in as the Mad Hatter," Neil says. "It definitely happens… I can tell you right now, that is the absolute fastest way to get a big discount off your meal, to get a bunch of free drinks, to get the red carpet rolled out for you. You come in costume, we absolutely hook you up."
In fact, it's Neil's dream to see both venues completely full of costumed diners for Halloween, something he begs for every year but never seems to get. He's held costume contests, put out red carpets, and more.
"If you have any interest in cosplay or dressing up or being in character, this is the place that you can do that and you should do that," he says.
The veracity of the fans also fuels one of Neil's biggest challenges running Beetle House: theft. Especially at the NYC location, he says, visitors will steal almost anything from the restaurant. He estimates that fans have taken "tens of thousands of dollars" worth of materials from the restaurant, ranging from silverware, to pieces of wallpaper, to one-of-a-kind original Tim Burton sketches (snatched from the wall).
"I think it's like they want to feel connected with the space," Neil says, explaining why he thinks the theft is so prevalent. "They want to have that fan moment where they feel like they took a piece of the restaurant home with them. It's not good for us because it makes it harder for us to create the experience that we want."
In fact, it is this very reason that forced the restaurant to change in multiple ways since its inception. Beetle House originally used custom-ordered forks and knives with a "gothic" feel, but found themselves forced to order dozens of new sets each week.
One of the signature Beetle House dishes, the Sweeny Steak, also had to change. The dish, a bloody steak referencing the killer barber Sweeny Todd, used to be served with a bladeless straight razor. However, they had to stop including the razor with the meal because so many were stolen.
"We would start Saturday night with 150 razors, we'd end with 50 razors," Neil says. "You're paying $3 to $4 a piece for these things, and we're ordering them by the hundreds. So we had to stop doing it. And then we get complaints."
If those complaints come via Yelp, though, Neil will never see them. He intentionally never reads reviews for Beetle House, instead measuring his success by the restaurant's longevity the fact that it's nearly constantly sold-out.
Neil also plans to continue growing Beetle House. He launched an official Beetle House cookbook this month, The Nightmare Before Dinner, and envisions opening a total of 12 Beetle House locations in the U.S. and six abroad. The "hot list" for upcoming locations includes Texas, Chicago, and Orlando.
Whether you know every line of every Tim Burton movie or if you're just looking for a place to spend the 31st, say "Beetle House, Beetle House, Beetle House" and make yourself a reservation at this unique, fan-centered spot.