Barbie Land is a place thousands of us have been to before, but it's typically found in a unique location that's harder to visit the older you get: your imagination.
Barbie has dominated the doll aisle since the brand's debut in 1959, covering toy store shelves in neon pink boxes filled with perfectly coiffed hairstyles, endless fashion options, and — most importantly — a whole lot of inspiration. Designed for kids ages 3 and up, Barbie's fans tend to grow out of the iconic doll as they mature, and while she may ultimately land in donation boxes or an attic somewhere, the message she delivers never goes out of style.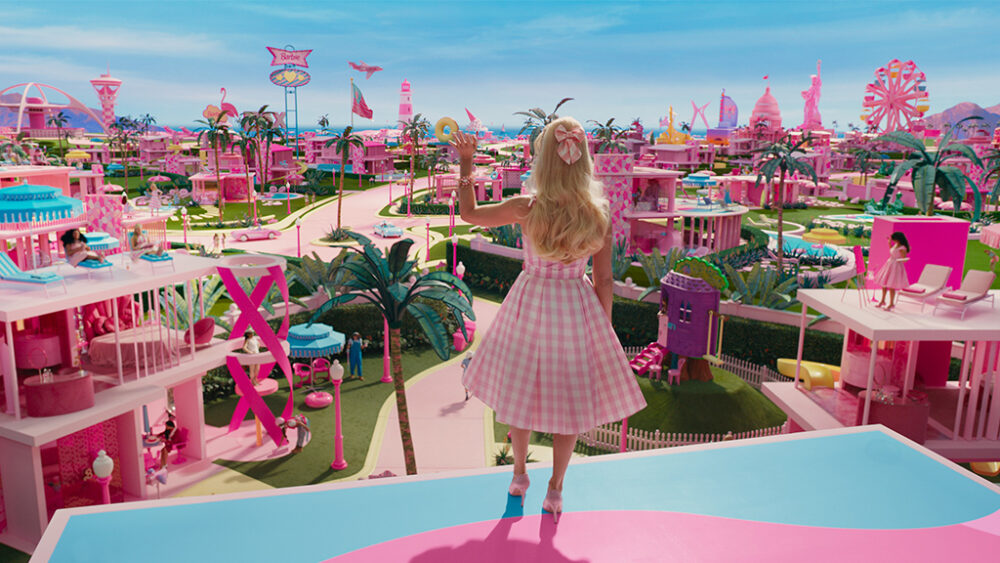 Mattel and Warner Bros. (with a lot of help from visionary Greta Gerwig and her Pinterest skills) have unboxed Barbie in a new way and brought the iconic doll and all of her accessories to the big screen in the doll's first-ever, live-action film. And there's great news for everyone who ever brought Barbie to life through their imaginative play experiences: Barbie Land is exactly as pink, sunny, and full of fun as you thought it would be.
Barbie: The Movie, starring Margot Robbie as Barbie and Ryan Gosling as Ken, practically transports fans inside those familiar pink boxes. The film is packed with Barbie-inspired details and Easter eggs that lifelong fans will recognize, and each dreamy detail will reconnect grownups to their Barbie memories from childhood.
"The thing that made me howl in that second trailer was when she stepped out of the shoe and her foot is still in that shape. I mean, that's iconic," says toy historian Chris Byrne, also known as The Toy Guy.
FROM 3+ TO PG-13
Since the doll first hit the scene 64 years ago, her core audience has always been preschool- and grade-school-age kids. But as with any brand that's been around for more than six decades, Barbie has amassed a fanbase that includes several generations.
Content creator Marina the 90s Barbie, who prefers to be referred to as her online moniker, has been sharing Barbie-focused content with her more than 48,000 Instagram followers for nearly four years. And as an adult woman who grew up with Barbie in the '90s, her followers also fall outside of the age range of Barbie's key demographic.
"I think people just like the pink and happy vibes," Marina says. "You know, we need that kind of energy in the world: the pink, the happy, the positive. Barbie's a very positive brand; one of her catchphrases is PACE, [which stands for] positive attitude changes everything. I really believe in that, and I think people really like the positivity. They have the urge and need to escape sometimes, and I think that's what my profile is for
my followers."
Barbie: The Movie has a rating of PG-13, and the trailers immediately gripped older fans with double-entendre jokes about "beaching off" and innuendos about grownup sleepovers. There are scenes dealing with sexism, existentialism, and even a moment of sexual harassment. And while these topics seem a bit risqué for the Barbie brand, the film stays true to what Barbie is all about.
"This is much more of a cultural, meta approach to Barbie. It's for the adults who grew up playing with Barbie, who love Barbie, and yet now have an adult sense of humor and sensibility and can laugh at this. At the same time, it looks like they haven't really gone away from the core sweetness of Barbie as well," Byrne explains.
Indeed, they haven't. "At the brand's core, Barbie stands for empowerment and unlocking limitless potential," says Lisa McKnight, executive vice president and global head of Barbie and dolls at Mattel. "The movie is incredibly supportive of our mission of diversity, inclusivity, and female empowerment."
WE ARE BARBIE
While Barbie was once criticized for her too-small waistline and utter lack of diversity, everything shifted in 2016 with the launch of Barbie Fashionistas dolls, which brought more diversity to the brand than ever before. The initial line featured an assortment of Barbie dolls with four body types, seven skin tones, 22 eye colors, and 24 hairstyles of varying colors, lengths, and textures. The line went on to include Barbie and Ken dolls with vitiligo, dolls in wheelchairs, and dolls with hearing aids. To date, there are more than 200 different Barbie Fashionista dolls in total. The best part? The dolls were all named Barbie and Ken.
And that message of inclusion is front and center in Barbie: The Movie, which depicts dozens of Barbies and Kens of all different skin tones, body types, and styles. Movie-goers will enjoy Issa Rae as President Barbie, Hari Nef as Doctor Barbie, Alexandra Shipp as Writer Barbie, Emma Mackey as Physicist Barbie, Dua Lipa as Mermaid Barbie, and more; not to mention Simu Liu, Ncuti Gatwa, and Kingsley Ben-Adir as Kens.
"The Barbie Land that will be brought to life in the movie is beautiful — the intentional casting is inclusive of various identities, and the music celebrates a diverse array of musical genres and artists — all coming together to celebrate Barbie and the multiplicity of her world," McKnight explains.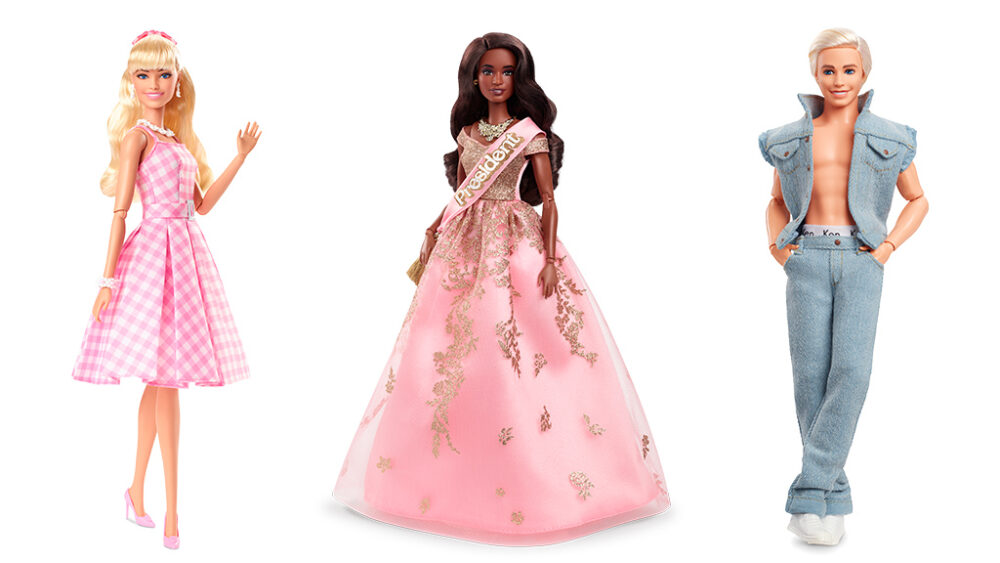 THE DOLLS
These Barbie and Ken dolls are coming full circle as they go from shelf, to screen, and back to shelf again with a full collection of Barbie: The Movie dolls from Mattel. Fans can collect Margot Robbie's Barbie in several different looks, along with multiple Ken dolls, Issa Rae's President Barbie, real-world Gloria, and more. The dolls range in price from $25-50, and feature signature fashions from the movie. Each one comes packaged in a special, upscale-inspired box, complete with metallic gold details. After all, when the boxes won't ever be torn open, the packaging actually matters.
"These dolls are for the person who has the Barbie doll on the shelf as a touchstone with their youth and their childhood, and it's not going to be played with. They're not going to undress it, draw on the face, and cut the hair — which does happen to a lot of Barbies," Byrne jokes.
IT'S BARBIE'S WORLD, WE'RE JUST LIVING IN IT
When it comes to a movie based on a doll, the dolls based on the movie are obviously going to be super important, but that's not all that's coming off-screen for Barbie lovers.
"Leveraging excitement for the movie, we will tap into delightful lifestyle consumer product offerings, digital gaming, and more — meaning there is truly something for everyone," McKnight says.
The merch program for Barbie: The Movie is set to be nothing short of legendary, with more than 100 new products for adults who cannot get enough of the self-aware film and all of the playfulness within it. "I want to see everything," Marina says. "Like everything you can imagine: clothing, cups, mugs, hats, iPhone cases — I want to see everything that could come out of this!"
And it looks like Mattel is making Marina's dreams come true. Barbie: The Movie collabs with Stoney Clover Lane, Alex & Ani, MeUndies, and Crocs provide fans with lots of opportunities to collect pieces of merch inspired by the film, while other partnerships bring actual set pieces to your hands — and feet. Impala Skate's Barbie x Impala line features rollerskates that look just like Barbie and Ken's from the film, along with protective pads inspired by their outfits.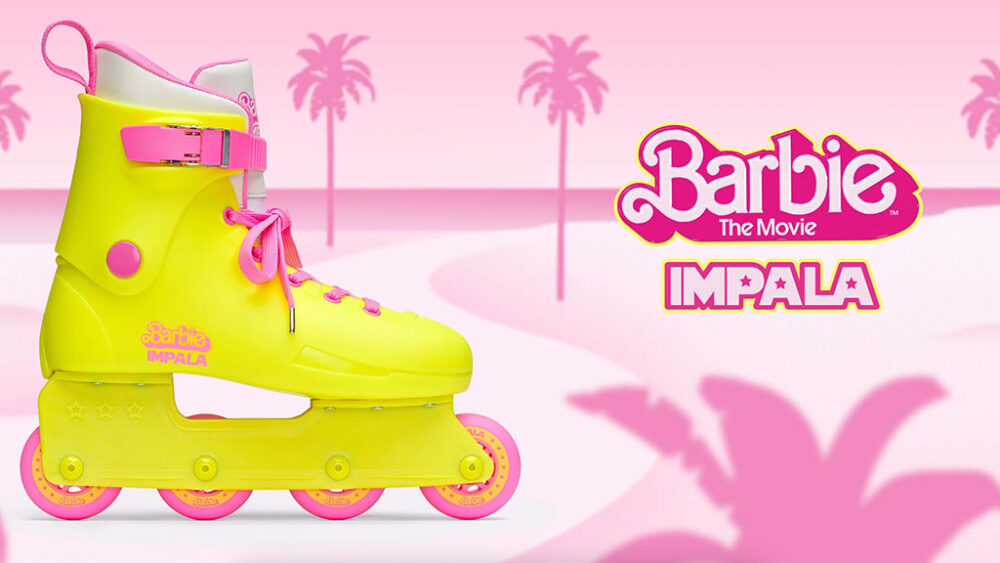 "We were surprised to see the customized Impala skates in the leaked paparazzi shots in June [of] last year," says Impala Skate's Global Marketing Manager Gwenn Strating Moen. "We were already in talks about a collaboration and once we saw those photos of Margot Robbie and Ryan Gosling on set at Venice Beach in the matching neon outfits and skates, we knew it had to happen — such an iconic look!"
If skating is not your thing, fans can also enjoy Funko Pop! collectibles, apparel from Mattel Creations, a full line of sneakers from Superga, makeup from NYX, and phone cases from Nudient. 
All of these Barbie: The Movie products have a common thread: They are far more upscale than licensed Barbie merch for kids. Rather than lunchboxes and light-up sneakers that feature illustrations of Barbie, fans will get a hot pink, $80 electric toothbrush from Moon and 14K gold pens from Montegrappa. Every item based on Barbie: The Movie is thoughtfully crafted, from the packaging to the subtle nods to the iconic doll. The collabs just keep coming, from limited-edition Xbox controllers to makeup collections, and there will be no shortage of merchandise to choose from even as we head into the holiday season later this year.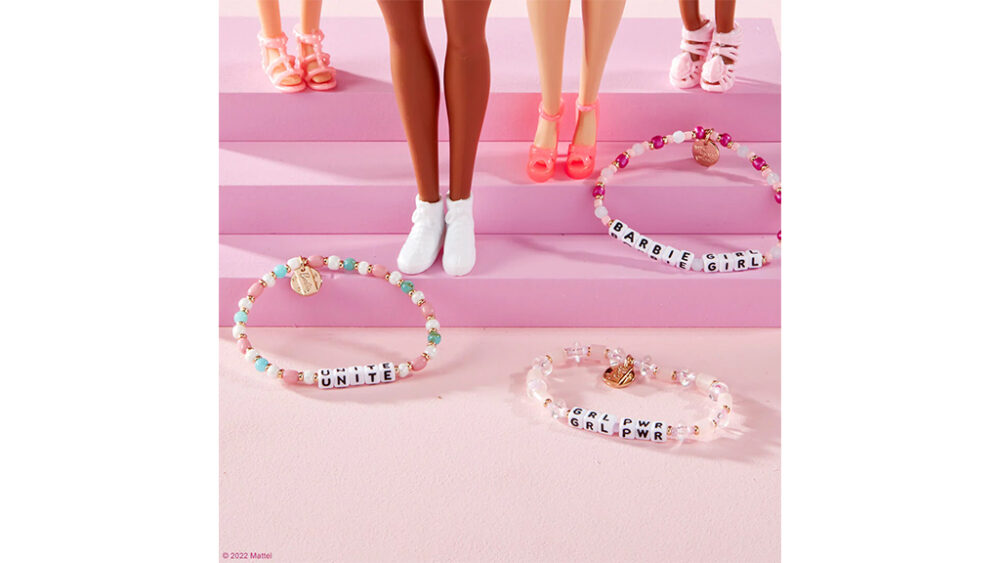 REAL WORLD, HERE WE COME!
As Barbie embarks on her journey into the real world, fans are ready to get sucked into the hot pink magic and wonder of Barbie: The Movie.
"The Barbie movie is going to be the film of the summer and a huge cultural event with a lasting impact on pop culture that further solidifies Barbie's legacy for the next generation," McKnight says.
A blockbuster film with an entirely new audience, a huge lineup of fresh merch, and an inspiring message about reaching your fullest potential — love her or hate her, Barbie won't be going back in the box anytime soon.
---
A version of this article was originally published in issue No. 17 of The Pop Insider. Click here to read the full issue!