The credits have finally rolled on this year's awards season, but not before giving the audience some climactic wins and feel-good moments at last night's 92nd Academy Awards. From Cats jabs and Parasite's triumphant underdog story to international Elsas, Oscars 2020 was one for the fans all over. Here's a recap of our favorite fandom moments.
Iconic Heroes: Captain Marvel, Sigourney Weaver, and Wonder Woman
https://www.youtube.com/watch?v=dZQQzSGWBA0
Heroic forces spanning the Marvel, Ridley Scott, and DC universes united on the stage when Brie Larson, Sigourney Weaver, and Gal Gadot presented awards early on in the broadcast. The trio introduced the Oscars' first female conductor, Irish composer Eimear Noone, and even joked about spearheading their own fight club, which we're all seriously hoping is not a joke.
---
Joker No Longer Upsets, Joaquin Still Laughs
America's wacky uncle Joaquin Phoenix finally won his first Oscar for his unhinged performance in Joker, one of two wins out of the 11 nominations for Todd Phillips' DC film. Phoenix was not short on words, using his stage time to honor his late brother River and tackle Big Dairy, among other issues. The other win belongs to Joker's composer, Hildur Guðnadóttir, who became the first female Original Music Score winner in 23 years.
---
Rian Johnson's Statement Porg Cufflinks
Ehhhhhhhh yeah fuck it pic.twitter.com/0gUWtTcX9u

— Rian Johnson (@rianjohnson) February 9, 2020
The Knives Out director and Original Screenplay-nominated screenwriter took to Twitter before the ceremony to flash his statement piece for the night: some adorable Porg cufflinks. Porgs, of course, come from Johnson's Star Wars effort, Star Wars: The Last Jedi. As fun as they are, it's not clear whether the cufflinks were a statement to the film's divisive fans, a hint at a future Lucasfilm collaboration, or just a bit of fandom fun.
---
Elsas from Around the World
https://www.youtube.com/watch?v=iI_cnK_YSro
Idina Menzel performed her Oscar-nominated song from Frozen 2, "Into The Unknown," showcasing the powerful singing voice of Elsa that we all know and love — we being English speakers, that is, as voice-dubbed Elsas from around the world joined Menzel to sing the song in their native language. I never thought I could love another Elsa, but Spanish singer Gisela's voice just might take the spot.
---
Cats Is Made Fun of — Again.
James Corden and Rebel Wilson reprised their roles from last year's odd-hairball musical, Cats. In full cat makeup and costumes, the two batted a microphone as if it were a ball on a piece of string for a solid 25 seconds, and it was a hoot.
---
Parasite and South Korean Film Make History
Bong Joon Ho's social class film wonderfully surprised us all by taking home four trophies and the first Oscar wins for a South Korean film. The film won Best International Feature Film, Best Screenplay, Best Director, and the biggest win of all, Best Picture, becoming the first non-English film to win the top prize. Fans across the world loved the film — and have fallen in love with the adorable Bong, too.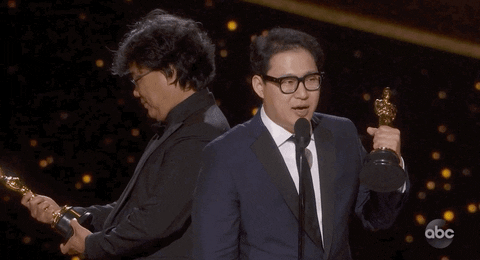 How could you not love that giddiness?
Check out the full list of winners here.
Photo: ABC