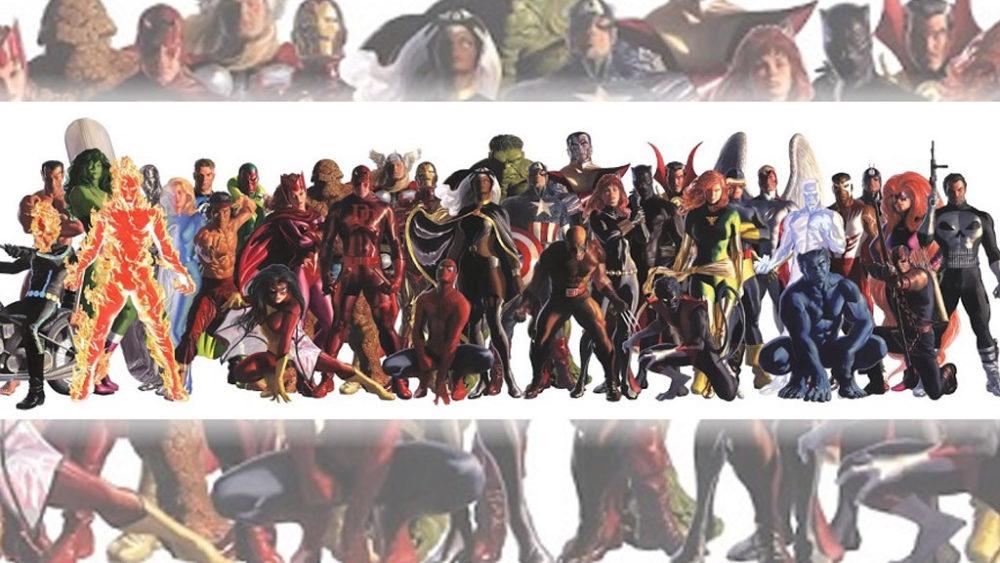 Alex Ross Art is coming back to Comic-Con International: San Diego (SDCC)!
Known for his colorful, human renditions of classic Marvel comic-book characters, artist Alex Ross is returning to the convention with a full gallery experience that will include a reproduction of his iconic Marvel: Heroes mural.
The Marvel: Heroes mural was originally created for the Marvel Studio's corporate offices. The painting features 35 Marvel characters, with each character taking a full day to create. Ross even produced a video of the whole process — check it out below!
This life-size image will be on public display for the first time, taking up an entire wall of the Alex Ross Art booth and offering a special photo opp for fans who want to pose with the iconic characters. The best part? Fans can take home their very own Marvel: Heroes mural for the first time ever, as an SDCC 2022 exclusive.
The Marvel: Heroes lithograph will be limited to just 395 pieces for $395 each. The print measures a whopping 44 inches long and features all 35 characters. Fans who aren't attending the show can join an online waitlist at alexrossart.com for a chance to purchase prints that aren't sold during the show.
In addition to the Marvel: Heroes mural, the Alex Ross Art booth will have a selection of fine art prints, exclusive comics, and more available for fans to peruse. Ross has already announced that he's bringing prints of the Batman No. 125 Variant cover A and B, as well as the Batman: Defender of Gotham illustration, an all-new piece created by Ross for SDCC.
Along with the Batman items, Ross will have a Moon Knight: Fist of Vengeance print — an all-new illustration featuring one of the latest Marvel superheroes to hit the silver screen — and a print of Ross' cover for "Black Adam: The Dark Age" that will debut at SDCC.
Ross is also working on "Fantastic Four: Full Circle," the first long-form work written and illustrated by the artist. The comic revisits the classic story from the '60s and aims to introduce the storyline to new readers.
All of these prints will be available to purchase and/or view at the Alex Ross Art booth (No. 2415) during SDCC! Be sure to head over to Alex Ross' website — the artist will be announcing more pieces leading up to the show!